Snowy Livigno blends the charming traditions of the past with the " thrills and spills " of today's most modern sports.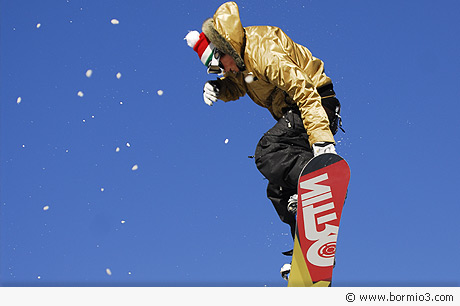 Its slopes are full of winter sports enthusiasts, engaged in everything from the original skiing technique known as telemark, to the very lastest sonwboarding acrobatics. This ability to move with the times without losing sight of its roots is indeed one of the secrets of Livigno's success as tourist resort.
A total skiing surface area of ove 70.000 sq.m. spread over six different mountain sides is a luxury few skiing resorts enjoy, and a sure-fire attraction for skiers, who can always find a sunny slope to ski down throughout the day. Livigno's other great advantage is the guarantee of snow, which begins to settle on the slopes in early November, the month the season opens, and is still in plentiful supply in late April or even early May. The 110 kilometers of pistes, suitable for skiers of all levels, are served by technologically-ad-advanced lifts.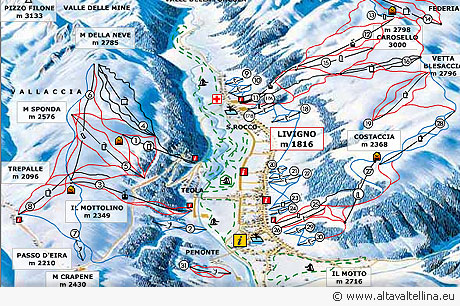 Most of the easy slopes are at the valley bottom, each "blue" piste served by its own skilift. The "red" (medium difficulty) and "black" (high difficulty) pistes, which are of course higher up, include the Carosello, which extends from an altitude 2.694 m. down into the village, and the Monte della Neve, which starts at 2.785m .
There are also plenty of opportunities for cross-country skiing, with a total of 40 km of well-prepared trails at the foot of Mt.Mottolino, passing along the right-hand section of the slope towards the Forcola valley. The circuits are graded according to technical difficulty. Each year the international cross-country skiing season gets under way in Livigno with the so-called Sgambeda, a cross-country marathon in a single 40 km circuit ending in the centre of Livigno. For the less athletic, a 4 km Minisgambeda, is also held.
Livigno is one of Italy's most well-equipped centres for snowboarding enthusiasts. As well as the off-piste trails through fresh snow in the woods and elsewhere, the snowboard station has set up two "Snowparks", one at Mottolino, the other high up on the Blesaccia Park. In the valley there is a slalom trail, a fixed half-pipe section, jumping facilities for the thrill-seekers,and a permanent boardercross piste with an altitude range of approximately one kilometre.