Information about the hotel
The Chalet dei Rododendri is situated in the locality of La Rocca, directly on the ski slopes.
It is run by the Bracchi family and stands out for the excellent service and great care for every detail. The Chalet is the ideal place for those who love the mountain areas both in summer and winter, as well as good food, genuine drinks and typical products.
The Chalet also offers the option of full board, half board treatment and use of the restaurant. It disposes of 9 small rooms (shelter type), equipped with bunk beds. Seven rooms are equipped with toilet and shower facilities.
The restaurant is the ideal place to make a stop when you are out skiing. You can relax in our panoramic hall and enjoy a breathtaking view over the beautiful Alpine landscape while tasting the best traditional dishes of the Valtellina region, matched with excellent wines.
How to reach the Chalet dei Rododendri: once you arrive in Bormio 2000, take the ski-lift up to the Rocca, at 2166 metres of altitude. In summer the facility is easy to reach by car.
A holiday at the shelter, with the chance of tasting exquisite and genuine homemade dishes, always represents an unforgettable experience whether you are a mountain enthusiast, a skier or simply a summer tripper.
The Chalet is open from December to April and from July to September.
Servicies & facilities:
How to get to hotel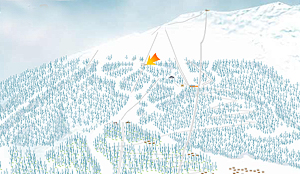 The hotel is located in La Rocca in the town of Valdisotto .
Follow: Bormio ) Bormio 2000) La Rocca
Contacts:

telephone number: +39 0342 905034
fax number: +39 0342 905034
Web site