The Bagni Vecchi springs are the oldest thermal baths in the area. The ruins of Roman buildings can still be seen today and are testament to the beneficial waters of Bormio.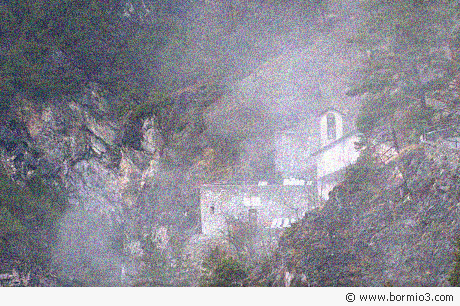 The Bagni Vecchi resort was known in the middle ages as "Bagni di Castello" and in Roman times as "Ospitium Balneorum". The old church of St. Martin, nearby, was built in the medieval era and referered to as the 'God of hot waters' and was allegedly built on the ruins of a pagan temple dedicated to Bormo.
Nestled at the base of the Stelvio Valley, the Bagni Vecchi was also used as a refuge to passers-by on their way to the Stelvio Pass.
The typical medieval structure of this complex can still be seen today; with the exception of some minor works between the 19th and 20th century, the Bagni Vecchi has maintained it's original construction.
Inside the Bagni Vecchi you will find a natural steam cave consisting of a 10 metres long tunnel leading to an hot water spring. The tunnel was carved when constructing the road to the Stelvio Pass. The work on the road caused the disappearance of St. Martin's spring, so it was decided to dig further into stone to find it again. It was only later, by chance, that people noticed the sauna effect of this cave which was than kept intact.