The construction of the road to the Stelvio Pass and the subsequent growth of tourism in the area led directly to the opening of the Bagni Nuovi, whose facilities perfectly complimented the already existing thermal complex at Bagni Vecchi.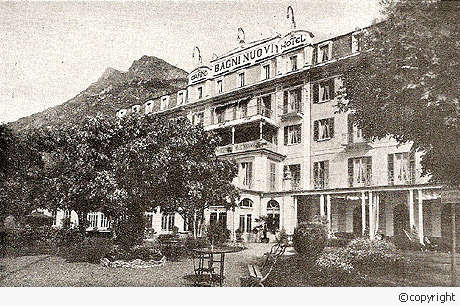 The project was designed by the engineer Giovanni Donegani in 1830, although the actual works started in 1832 and was completed with the opening of the Bagni Nuovi in 1836. In the original structure, the ground floor was connected to an adjoining building used as a thermal complex.
The pools were aligned along a corridor and each room had it's own small pool in the classical Roman style which could be entered through a series of steps.
The ball salon - whose ancient splendour can still be admired today - was designed at the end of the 19th century by the Swiss architects Chidera and Tschudy. Throughout this period the Bagni Nuovi reached it's pinnacle, thanks to the many visitors who came from all over Europe for health treatments.
The Bagni Nuovi Grand hotel, was also a stopover for carriages which went from Milan to Innsbruck through the Stelvio Pass.
The prosperity of Bagni Nuovi however, faced a crisis in the period between the two World Wars. During the Second World War, the building was also used as a home by soldiers fighting along the Stelvio front. In was in this period that Vittorio Emanuele III, King of Italy stayed here on a visit to inspect the troops stationed there. At the end of the war, norma business was restored.
The complex was enlarged and improved; a new two-storey building was added to the north and used to perform additional health treatments.
The thermal complex and the adjoined Grand hotel were then closed in 1976 and reopened in 2004 after a long restoration and conservation work which preserved the original architectural style.